Mary Sarah Eldridge
BA (Hons) QTS, Dip RM, Dip CH, DipA DipCA, MLCSP, MBLS
Physical Therapy Practitioner and Teacher
Mary is a professionally qualified and experienced practitioner in a range of physical therapies specialising mainly in Remedial and Orthopaedic Massage .She has worked in various clinics in York for the past 10 years.
She has trained in many areas of massage in the UK and Australia, having studied at the Melbourne Institute of Massage Therapy. She is however British and was a teacher in Sussex for ten years before deciding to embark on a career in the healing profession. As well as being a practitioner, Mary is also a Co-director at The York School of Holistic Therapies where she teaches many courses including the VTCT Level 3 Body Massage and Aromatherapy diplomas to practitioner level.
Mary is a member of the LCSP Register of Remedial Masseurs and Manipulative Therapists; an organisation with members who are Remedial therapists, physiotherapists, chiropractors, osteopaths and some doctors. Mary is also a member of British Lymphology Society and belong to the Complementary and Natural Healthcare Council. She is highly qualified and fully insured.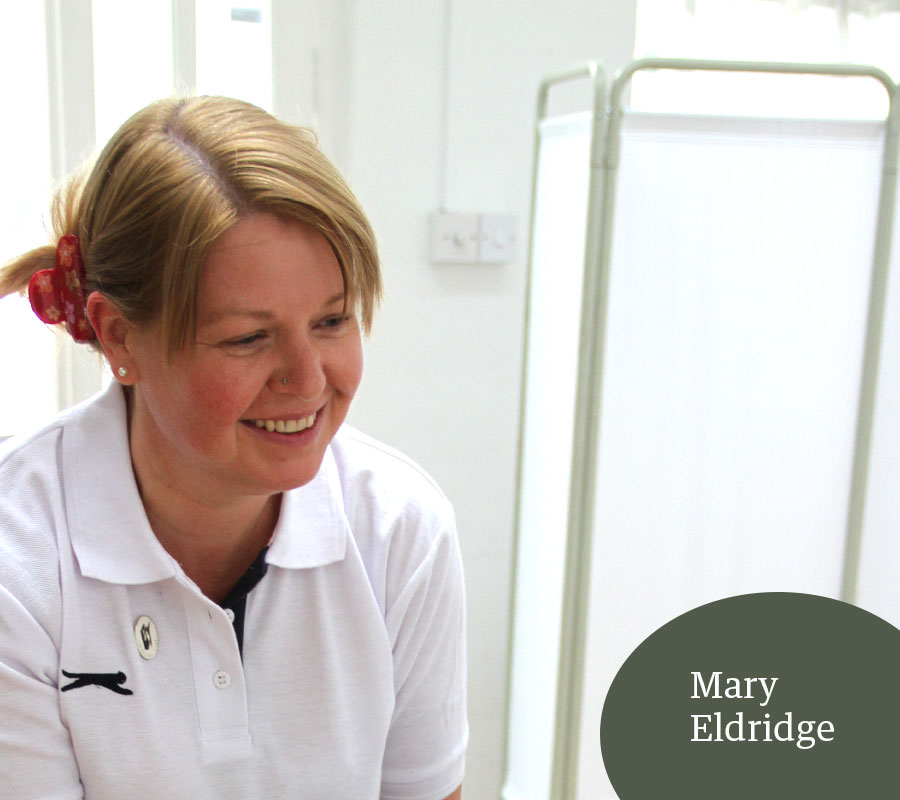 Qualification
Bachelor of Arts (Hons) with QTS

Certificate IV in Relaxation Massage

Certificate IV in Sports Massage

Certificate IV in Oriental Massage

Diploma of Remedial Massage

Diploma of Colonic Hydrotherapy  with The Scottish School of Colon Hydrotherapy

Diploma in Aromatherapy (VTCT)

Certificate of attendance in Manual Lymphatic Drainage Therapy

Certificate of attendance in Manual Lymphatic Drainage Therapy

Certificate of attendance in Chi Nei Tsang level 1 (internal organ massage)

Certificate of attendance Ka Huna Hawaiian Massage (Lomi Lomi, Polynesian floor   work and pregnancy massage)

Certificate of attendance in Orthopeadic and medical massage for the upper body with pelvic stabilization

Certificate of attendance in Advanced Orthopedic Massage for Upper Crossed and Lower Crossed Sydrome

Certificate of attendance on many Hendrickson Method technique courses with Flexible Healing and LCSP

Certificate of attendance on 2 Mobilising Massage courses

Certificate in Thai Herbal Hot Compress massage

VTCT A1 Diploma in Assessment
Mary offers a high standard of specialized Remedial and Orthopeadic massage service as well as treatments in:
Sports massage – pre and post event treatment, training massage and treating injuries
Manual Lymphatic Drainage Therapy (MLD)
Pregnancy massage
Oriental Acupressure massage- the trunk and extremities, treatments for digestion,    uro-genital, headaches/migraine and neck pain
Clinical Aromatherapy
Relaxation Massage with aromatherapy oils and hot stones (optional)
Thai Herbal Hot Compress treatments
Ka Huna Hawaiian Massage
Seated Massage and Indian Head Massage
Facial Massage treatments
Tailor-made massages for the treatment of sinus problems, hay fever, ear problems, headaches and migraines using MLD, Oriental acupressure